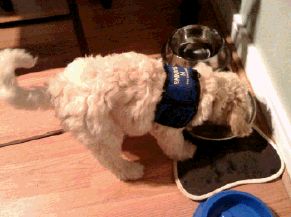 I just had to write and tell you what WONDERFUL dogs you are breeding. But then, of course, you already know that!
My name is Merilee Kelley and I am Chairman of Working Paws Assistance Dogs. I am currently involved with "Dosto" - Barb V's dog, who is being trained as Barb's Service Dog, and Jaycey C's new puppy (Babe) Jaycey's Aunt, Kathy S., is puppy raising Babe for Jaycey's son with Asperger's.
I knew that you had "just the right touch" for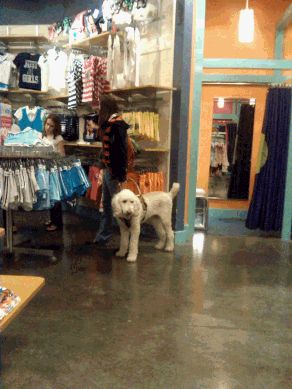 choosing the absolutely perfect puppy for the
owner and it's needs - - but you have exceeded my expectations. Dosto is now in
advanced training and is FABULOUS. His attention, his caring nature, his intuitiveness
and his work ethic are absolutely perfect for the job ahead of him. This weekend I got to spend some time with the absolutely adorable "Babe" - - who stole my heart!! Kathy is an experienced service dog puppyraiser and is thoroughly enjoying this puppy! She's so intelligent and good natured - what a joy to train.
Thank for being the professionals you are. Your puppies are marvelous and I look forward to working with you again in the future.
Working Paws Assistance Dogs
******************************
If you are interested in owning the very best dog known to earth you must consider a Labradoodle! Smart, gentle, cute, loving, and did I mention SMART. I can teach my Labradoodle just about anything in 1 or 2 lessons. Before I got a dog I had a big plan to take him to puppy school, but because he learned so fast I felt that puppy school would not do him much good. If they had puppy college, I would probably take him. I have 3 children - 1, 4, and 5 and to say the dog is great with them would be an understatement!
My only concern with buying a dog over the internet was "trust". I was lucky because my friend bought a Labradoodle from Jan at Rosewood Labradoodles and I was able to inspect and play with the dog first hand. After spending 10 minutes with this dog, I knew without a question I found my breeder. My new puppy has exceeded every expectation that I had.
******************************
We started our dog class (beginner) yesterday, after completing our puppy class. YoYo was amazing. Her and I were showing the class how dogs should walk beside you and how attentive they should be. YoYo looked like the dogs that you see on the dog contest on TV. She never stopped looking at me and when I stopped walking, she would sit and stare at me. This was all off leash. There were 15 other dogs and not once, did she get distracted.
She looks so much like BeeJay and is so sweet. I can't thank you enough for a wonderful addition to our family,
I will tell you a bit about us and in the process I will share our experiences with working with Jan and Jim Rice. My husband and I have two boys ages 8 and 10. They of course wanted a dog for quite some time. We wanted to make sure we were doing the right things before we purchased a dog. I did research and fell in love with the Australian Labradoodle. I was on Rutland Manor's website and that is where I first learned of Jim and Jan Rice. I had a few questions so I emailed them almost a year ago. I had contacted other breeders but Jan was always willing to help us. She seemed interested in us and providing the right home for the puppy and not just selling a puppy. Jan was always the first to answer all of my questions. But at that time we had to wait on a puppy due to financial reasons.
Over the next several months my husband questioned of an Australian Labradoodle was worth the money. He had grown up on a small hobby farm with dogs but none this expensive. We wanted a bigger dog but had allergies and I wanted an Australian Labradoodle because of all the wonderful things I had read and heard about them.
After several months of more research my husband and I decided the boys were ready and were at the perfect age for a puppy and my husband decided to give in. (Santa contacted Jim and Jan and a puppy would be available in a few months). Now we just had to wait.
Well, our puppy was born in February and we got to pick him up the end of April. It was a total surprise to the boys up to the hour before picking up the puppy. We live an hour from Rockford so we went to pick up our Tucker on a Friday night and told the boys we had some places to go. When we got in town we pulled over and told them the great news. I had made a scrapbook of all the information about a Labradoodle and about Tucker's parents (Nalani and Macho Man) and pictures of the litter from the beginning until 10 weeks of age. It was the BEST moment ever! There were tears of joy. It was so nice to finally meet Jan after a lot of emailing before and a lot during the pregnancy. I think I sent over 100 emails of questions. She was so nice and always replied saying I was not bothering her. When we met it was like we already knew each other.
The boys want you to know Tucker is perfect! He has been a very good puppy. He was potty trained in a few days. We trained him to go ring jingle bells by the door when he needed to go outside and he does this very well today. He slept in his kennel at night and pretty much slept through the night right away. Within weeks we were training him and he learned his name, to come, to sit. We started puppy classes since learned a few more things. He knows down, off, roll over, speak, wait, and the boys love that he knows how to give high five. He will tap his paw on your hand if you ask for a high five. He is very smart. He loves to make you smile and laugh. This summer I had surgery and it is so true how a dog can sense something is wrong. He wanted to be near me alot.
I can honestly say he is so much like a description of a Labradoodle. If you ask my husband now he will say Tucker was worth it! He has never been around a dog quite like him. He is the color we wanted, his fur is what we wanted and they really do a great job testing the puppies to find the perfect one for you.
Since our adoption we still keep in touch with the Rice's. I try to update them on Tucker's growth and still email them with questions. I can only say wonderful things about them. I know if we ever consider adding another to our family that we will contact them right away!
We have met so many new people because of him and have enjoyed sharing our experiences. I can honestly say we are so happy we got him. He makes us laugh every day and makes us smile.
******************************
I just wanted to give you a little update on Finnigan. Last weekend we went to a family picnic at my husband's sister's place and everyone where was so enthralled with Finnigan. With the exception of my sister, no one had ever met him before (a lot of them had never heard of an Australian Labradoodle) and just couldn't get over his size (for six months), his coat (so soft and curly) and his nature (calm but comical character who listened well and never left the yard). My brother-in-law just kept saying "I really like that Finnigan!". My Nephew (who was home for a visit with his girlfriend) was to pick up a new puppy when they got back home...made a statement that they should have chosen a Labradoodle. Finnigan just lapped up all the attention.
They have a pond which he just loved playing in. He would go to the water's edge to get a drink and each time he would go a bit further in and then would jump as high as he could back out of the water and run! It was so funny, he had everybody laughing!
Finnigan is everything I hoped for and more. He is a real joy to have. I have heard a lot of comments about Labradoodles from groomers and vets and most of them have been negative. But then they meet Finnigan and they can't believe how different he is. I just tell them that's because he's not a Labradoodle as they know Labradoodles but an Australian Labradoodle and they are two very separate breeds.
******************************
When I started to search for my present service dog (mobility assistance), I looked at Labradoodles. Did not know squat about them, nor the difference between local mixes and the Australians. I happened on a site in Oregon, and corresponded and talked with a lady from there (Aprina Labradoodles) for about a year. She had an excellent site with all kinds of information. Just as I was going to try to figure out how to make a trip out there to get a pup when the time came (fly with a service dog and bring a pup home at the same time????), that breeder quit breeding the large version. Since she knew that was what I wanted, she referred me to Jan Rice with a glowing recommendation. I was thrilled because Jan was only two hours from my house in Illinois (I also have a home in Tennessee). I corresponded and chatted with Jan for several months. Her litters for winter/spring for '07 were all spoken for, but the litters in the fall were the best timing for me anyway. I wrote note after note with questions as they popped up, and she was a darling about letting me learn more about the breed. She knew and watched for the best pup for my needs, and I really think she made an excellent choice. She wrote note after note as he developed - even though I did not know who "he" was nor whether it was he or she at that point (color and gender were not important factors for me). Dosto is a Macho Man offspring. Mama being BeeJay. He is charming, beautiful, smart as a whip, a typical crazy puppy when playing outside with his "big brother" Pyr (my present service helper), and calm as can be inside. We have also started going into places of business -- as a service trainee in Tennessee he has the same access rights (once housebroken) as a fully trained dog. Every time, he makes me proud and off goes another thank you note to Jan. He has no formal training yet -- that comes much later. But he walks quietly with me behind the shopping cart, loves to greet the adoring strangers (there are rules about that also), and generally shows every indication of being the perfect service dog.
I think my present puppy class trainer put it best when she watches Dosto for a few minutes and commented "what a gentle soul". I have had two vets (Illinois and Tennessee) comment on Dosto's dignified behavior, one when he was only 12 weeks old. He can act like a typical idiot puppy at play (to quote a trainer), and yet knows when company/indoor manners are called for. Even my husband is impressed -- and to him, a dog is a dog basically. But not this one.
I have always been a multi-dog owner, and I wish I were young enough to have another of Jan's just as a pet. I know I made the best choice I could have with Dosto.
Barb - Tennessee and Illinois
******************************
I cannot tell you how happy we are with Pepper. As I've said before, Pepper embodies all the virtues listed on your website. Wes and I simply cannot believe that it is possible for the same dog to have such a wonderful temperament that combines calm and trainability with an untiring desire to play and have fun. Pepper exceeds my dreams as a dog buddy for David and everyone else in the family, too.
Again Jan, this is a wonderful dog. I am constantly grateful to you for making her available to us.
******************************
I take Fred to work at least one day a week, he went last Friday and I thought you'd enjoy the following regarding his visits, (the names have been changed).
One lady, "Liz" has gone from giving him a little pat on the head to really giving him a vigorous rub, they love each other.
"Dom" is a man with advanced Alzheimer's, he usually communicates with sounds and facial expressions that look like he is crying. When Fred came to visit, "Dom's" eyes lit up, he reached forward smiling and stroked him, cooed at him and said all kinds of loving words. The staff hesitated in their work and eventually looked up to see what was going on. Every one was so surprised to see such a reaction and interaction and such smiles from "Dom".
One more story. "Alice", another resident with Alzheimer's Disease usually holds her hands around her waist and paces up and down the corridor all day long. She doesn't like to talk to people or be touched and she mumbles along. Well, introduce Fred in to the picture........."Alice" smiles, her eyes dance. She comes over to me and gradually her mumble becomes words and then sentences, complete and clear. She not only holds my hand to guide me and Fred to visit folks but she laces her fingers in mine and we walk all over, and she tells me she likes Fred and she even gave him a treat!
I could go on but I think you get the picture. OK, one more. Our staff has been a little down and many asked me to bring Fred in, they needed a hug from him. One of the Physical Therapists kept taking Fred's photo every time he saw him.
******************************
The minute we opened the crate at the airport, Caspian bounded out and leapt straight into my arms. And I have to confess -- eight weeks and 20 pounds later -- I am still reluctant to put him down. To put it simply, Caspian is the dog love of our lives. With eyes full of wonder (and an occasional mischievous glint), he charms everyone he encounters. Even our Jack Russell Terrier is smitten. The two dogs play together beautifully, most recently enjoying long games of tug of war with a knotted rope. Caspian is also enjoying Saturday morning trips to our local farmers market where he politely greets other dogs and literally smells the flowers. It's so cute! Puppy kindergarten was a great success. A little overwhelmed by bounding pups at first, he stayed securely by my side but quickly found his place amid the puppy mayhem. His teacher (a pretty well known and respected trainer) commented on Caspian's cleverness and intense desire to please. He was a star pupil! And he has become a full and integral member of our household. We are grateful to you for bringing him to us.
******************************
Let me start by saying that Annie is a wonderful pet. She is so smart it is sometimes unbelievable. We trained through the classes offered at our local PetSmart. She went through every class and then took and passes her "AKC" - "CGC" (Canine Good Citizen) test before she was a year old. She has a very laid back personality and as a pup, only a few months old, people couldn't believe she was so young and so calm. When she was about 6 months we took her to our local fall festival where her and I sat on a bench in the shade and the majority of the time we had a line of people, typically five or six deep, waiting to see and pet her and ask what kind of dog she was. I told my wife I should have had my narrative about labradoodles printed up since my voice was about ready to give out. Even now, walking her around the neighborhood or perhaps at one of the local shopping centers, people will pull over and stop their cars to find out about her.
When she was four months old her and I were walking in the forest preserve and rounded a bend and encountered a group of two adult and one baby deer. Rather than straining on the leash and barking as you'd expect a young dog to do, Annie simply sat down and watched. We stayed about 10 minutes watching the deer (only about 40 feet away) until they gradually walked away deep in to the woods. Even now, while walking on our prairie path Annie will sit as another dog approaches (I never taught her this) and just watches as the dog goes by. After it walks past, she'll then get up and continue on our walk. If the other dog indicates it wants to play, she's also ready for that, she always likes to play. We have a local dog park and she really enjoys getting out there where she can really build up some speed running with those long legs of hers. She enjoys being outside and rings a bell we have hanging on our back door knob to let us know she wants out. In our yard she loves running "figure eights" around our trees.
Over the past year we have been taking Annie over to the nursing home where Pat's mother is a resident. Annie is simply unbelievable. She seems to sense how frail some of the residents are and will sit and wait for them to approach (in their wheelchairs or walkers), licks their hand and sometime places her head on their lap. The residents can hardly wait for her next visit. Many times we have a line of people waiting to pet her. Last week they had their annual Christmas party with residents families present. We had both elderly people and little children waiting to pet Annie. In fact, several of the staff members asked if they could get their picture taken with her. Of course, Annie also loves all of the attention. After the holidays we're going to look into additional training so that she can become a certified therapy dog. She seems to be a natural and already knows the basics.
We are very happy with Annie and with Jan and Jim Rice. They were very helpful when we called several times after getting Annie to ask them questions. We been in contact with them via email ever since.
******************************
Whisper is perfect. Our vet is in love with her and little did I know when I sought him out that he has a particular fondness for labradoodles and did some impromptu quizzing of me. He is associated with Labradoodles therapy training. He is active with a training program out here on the island. States Whisper is a beautiful dog and the staff is taking bets on how big she will be.
Whisper shares her time between the city and the country.
City Dog - She is so smart! She has adjusted to both city and country in this short period of time. In the city she is potty trained and does all outside IN THE GUTTER. I am walking her 4 - 5 times a day. When we need to do errands she is crated and listens to Soundscape music, since sometimes the classical can get a bit too heavy. But, classical is for the car and she is an excellent traveler! She is learning proper etiquette for a city pup. She SITS in her perfect posture and waits for the elevator, lets us in first, sits in the elevator, and lets us out first. How's that for a month! Walking along Long Island Sound brings out the Diva in her. Admirers every step of the way and doggie friends Lucy, Max, and Madison (a 9 month old Goldendoodle), have made her socialization positive. I do not bring Whisper to the dog run as there are too many germs and I notice that owners just sit and talk while they let their dogs run and poop instead of walking them first and then providing interaction among the dogs. Our neighbors have welcomed her like a new baby.
Country Dog - No potty accidents ever! Whisper loves the outdoors! Her first experience with an owl was interesting. She has dug, explored and exercised. She seems to know when we are almost there as she perks up and anxiously waits getting out of the car. Summer will be wonderful for us!
Companion Dog - Bob thanks me every day for Whisper. They have bonded, shared secrets while I was at work, and have a routine. We all have family time at night and when we have lights out Whisper goes in her crate without being told, sometimes she does not want to wait for the news and goes in ahead of time. She wants us to go to bed at that time. She also knows when my alarm will go off at 4:00 AM and is up just before.
As you can see Whisper is greatly loved. She has given us so much love in return. It seems she looks out for Bob, especially when he is resting during the day. She checks up on him. This is a relief for me since his health is not good and we actually had too many close calls. She is Man's best friend.
Magee - New York and Pennsylvania


******************************
I could not speak more highly of any dog breeders we have met over the years. It was our daughter-in-law who found Jim and Jan with some on-line sleuth work a little over two years ago. We were already familiar with Australian Labradoodles through our (other) son who had looked in to acquiring a low allergy, interesting and fun dog almost 6 years ago. He had picked a breeder, but the litter did not turn out as planned and he received his deposit back. When Elena found the Rosewood Labradoodle website, we decided to go out to Rockford with our daughter-n-law and both sons to visit the Rice's dogs personally and see their operation. That was 2 years ago before any of us signed up for a puppy. The mellow and happy reception we met from both Jan, Jim, and their house full of dogs was memorable. Five adults and two young boys drove out to Rockford. Jan and Jim talked for hours, welcoming all questions and letting is interact with their beautiful Australian Labradoodles of all ages without ever making us feel rushed or unwanted. We fell in love and signed up for a puppy from any one of 3 litters which were upcoming, as did our married son.

Throughout the 3 breedings, pregnancies, deliveries and early weeks of the more than 20 puppies' lives Jan kept us informed weekly and never tired of answering any questions we might have. Jan and Jim made careful note of our preferences and assigned us with just the kind of puppy each family wanted - a mellow, loving fellow for our son and his young family and a lively, inquisitive, interactive, and "fun loving" fellow for us. We trusted their insights and were well rewarded. Our puppy, Ancho, came from BeeJay and our son's family received a Nalani and Macho Man puppy, Puck, only a few days younger than Ancho. Though their temperaments remain very individual they looked like two peas in a pod are are still best buddies and playmates. We have continued to turn to Jan and Jim for advice on various occasions. The Rices have unfailingly been interactive and helpful and interested.

The socialization for each puppy that the Rices dedicate themselves to providing is exceptional. The care we have seen them use in choosing breeding lines is thorough and committed to continuing to establish the Australian Labradoodle as a sound and wonderful, loving, beautiful, intelligent, service worthy breed. Ancho's energy has enabled us to enjoy both obedience work and agility. He is the unselfconscious ambassador for Rosewood Labradoodles as people are drawn to him and we're often stopped and asked about what breed of dog he is and where we acquired him. I've been lucky to meet one Rosewood puppy that one of a number of people have adopted because of meeting Ancho, and this puppy has also done wonderfully with her family and is now training beautifully at the same facility we happen to use. Even the woman who boards our dogs (a breeder herself, a UKC judge and trainer) has referred prospective labradoodle buyers to Jan and Jim based on her knowledge of our experiences and Ancho and Puck's temperaments though she previously disparaged the haphazard breeding of the labradoodle.

Judy - Illinois